TOUR DA NANG-SON TRA-BA NA NUI CHUA-CU LAO CHAM-HOI AN ANCIENT TOWN

Chi tiết TOUR ĐÀ NẴNG - SƠN TRÀ - BÀ NÀ NÚI CHÚA - CÙ LAO CHÀM - PHỐ CỔ HỘI AN
Duration: 4 days 3 nights
Arriving in Da Nang, guests will be immersed in the cool waters of the sea during the summer days, which are engaged in sports games on the sea,… To Da Nang from which to depart to the famous tourist attractions: Hoi An ancient town lantern, Ba na 4 spring ha Thu dong, visit Linh an pagoda, visit Ngu Hanh Son, hope about the city from son Tra Peninsula… In addition, guests also enjoy delicious food, specialties bring central flavor to remember forever not forgotten.

DAY 01: DA NANG-PICK up – SON TRA PENINSULA – MY KHE BEACH (lunch, dinner)
Light ✅: Car & Guide The company pick you up at Da Nang airport. (Flight before 12h00)
Lunch ✅: Lunch at the restaurant. Hotel Check-in (check-in from 14h00 or earlier according to availability)
✅: Depart for son Tra Peninsula (Monkey Moutain)-10km from Da Nang city Center to the northeast, is the vase to shield windstorm for Da Nang city.
You will visit:
• Visit Linh An temple, admire the highest Bodhisattva Buddha in Vietnam 67m. Enjoy panoramic views of Da Nang CITY and take pictures.
• Time left you freedom to bathe my Khe beach
Bring the delegation to the dinner restaurant with famous specialties Da Nang "Pork rice Noodles 2 Scalp & Noodle Promo". You are free to explore Da Nang beach in the night.
Then you are free to explore Da Nang beach in the night (Dragon Bridge blast fire on weekends, the Han River swing Bridge, Trade Center, Food Street, Café-Bar – Discotheque). Stay in Da Nang.
DAY 02: BA NA HILLS – GOLDEN BRIDGE-FANTASY PARK (breakfast, lunch, dinner)
✅ Morning: Breakfast.
7h30-8h00: Depart for Ba na Hills tourist area where you discover the moment of delivery of unexpected seasons – ha-Thu – East for 1 day.
Arrive at the Dream Spring Station, where you are free to take a souvenir photo.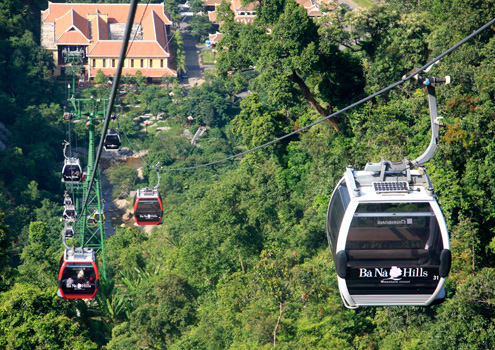 After that, you get on the cable car Ba na-won 4 world records, sitting on the cabin Ba na suspended between clouds, you have the opportunity to look down to the Baht thousand mountains to enjoy the view of Ba na nature reserve. From above, you will admire all the fairy hair waterfalls of hung vy with spectacular waterfalls. Sitting in the cable car, you can also collect panoramic views of Da Nang, from the Bay of Nguyen Tat Thanh to son Tra Peninsula, Hai van Pass…
Visiting Linh an pagoda, like Buddhist temple with the prestigious Ca statue, 27m tall is placed in the highest position in Southeast Asia, the colorful Love Flower garden "Le Jardin d'amour", the world famous Golden Bridge-"-the unique bridge located in the garden Thien tai in Ba na Hill-built at 1,400 m above sea level, the bridge consisted of 8 beats and a length of 150m. The bridge is supported by a huge pair of hands. People are in the midst of a scene where clouds and heavens are.
Continue to visit the entertainment area in the 3rd largest world FANTASY PARK: The Love spin, pilot SKIVER, fire race track, Windmill, Spider Man, Free Spins fall tower, 4D movie Watch, Dinosaur park, wax Statue Museum… (Self-sufficient museum ticket 100.000 đ). You down the cable car.
✅ Noon: Have lunch at a mountain restaurant (or buffet at an additional surcharge of 105,000 đ per guest). Leave Ba na back to Da Nang on the Nguyen Tat Thanh Tourist route, the most beautiful sea route in the central region.
+ Arrive at the hotel. You are free to bathe my Khe beach (voted by Forbes Magazine as 1 of the 6 most charming beaches).
✅ Dinner: 19h00 dinner at restaurant.
You are free to explore the beach town of Da Nang at night: Sit in the Han River cruise or Sun Ferris wheel in Ho Chi Minh City (own expense), commercial center, Food Street, Café-Bar – Discotheque,... Overnight in Da Nang.
DAY 03: FREE MORNING OR SELECTION of Cham ISLANDS SNORKELING CORAL-AFTERNOON: HOI AN ANCIENT TOWN (breakfast, lunch, dinner)
✅ Morning: Breakfast. Guests have 1 free morning at the hotel or bathe, freely go to specialty shopping market as a gift.
✅ Noon: The car takes you to lunch at a restaurant.
Or opt to join CU Lao Cham Tour: (surcharges 600,000 đ/guest)
8h00: Depart into Hoi An Cham Island.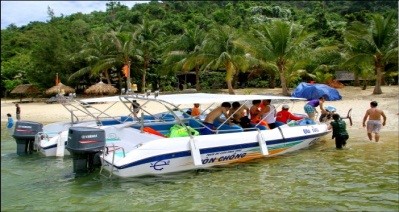 At Cua Dai Port, you sit speedboat to Cu Lao Cham, the World Biosphere Reserve consists of the island cluster off the East Sea from Hoi An 12 nautical. Visit Hai Phong Pagoda more than 400 years old, Europe boat-the area of storm avoidance of fishermen, residential area, ancient well & the ancient mausoleum.
✅ Lunch: Have seafood lunch at the Island restaurant.
✅ Afternoon: Continue visiting the marine protected area in the North Beach, Long Hon. and participating in scuba diving activities (Snokelling) Explore coral, aquarium, fishing, catch, John Mesh, bathing,… .
14h00 boat take you back to port, the car takes you back to the hotel to rest.
✅: Take a trip to Hoi An to visit the Old Town – a UNESCO World Heritage SITE.
Visit ancient houses, pagodas, assembly Hall of the ancient architecture and learn about the lives of local people and the developments of the municipality in history. Enjoy the old Town view at night. Free to shop for souvenir items.
✅: Dinner restaurant, enjoy Hoi An specialties (high floor – chicken rice). The car takes you back to Da Nang along the sea to see the beautiful Da Nang city at night with a series of resorts and luxury resorts.
Overnight in Da Nang.

DAY 04: DA NANG CITY – GUEST (breakfast/Lunch)
✅: Breakfast at the hotel.
The car will take you walking around, watching and listening to the presentation guide about the famous architectural highlights of the city of Da Nang tourism: Administrative building, Song Han Bridge, Dragon Bridge: Stroll the fresh air on the banks of the Han River , visit and capture the unforgettable impression at the Love Bridge, admire the statue of "Dragon Carp"…
• Shop for presents at Central Specialty supermarket or Han market.
Hotel check-out.
Lunch ✅: Lunch at the restaurant. The bus to the Da Nang airport. Hello, dear.
End of interesting sightseeing program here.
Standard
Tour rate is applicable for group of 15
Single room surcharges
KS 3 * Center
2,690,000 đ
850,000 đ
Flight ticket price from
2,507,000 đ/Vietjet roundtrip (including 7kg portable) price fluctuates from time to point
Children
5-9 years: 50%
10 years: 100%
* TOUR PRICE INCLUDES:
New air-conditioned car travel service throughout the program
Vietnamese enthusiastic guide, experience throughout the route
3-star hotels in central comfort, air conditioning, television, hot and cold water, Standard room type: 2 adults/room, extra guests sleeping Room 3 (case of 1 person, compulsory surcharge of single room)
Fees for visiting the points in the program
Speedboat and diving service snorkeling cu Lao Cham if registering for the option tour.
Meal Plan:-3 Breakfast at t
he hotel-dining main 7 meals
at the restaurant: 6 meals 120,000/capacity + 1 BUFFET of Ba na 225,000 đ/capacity
 Serving bottle Water 0, 5l/guest/day.
Maximum compensation insurance of 20.000.000 VND/service
* PRICES DO NOT INCLUDE:
Airfares, train tickets, VAT
Ba na cable car ticket round trip 750.000 đ/adult, children from 1m-1, 3m: 650.000/Ticket
Asia Park Ticket
Dining and other personal expenses not available in the program
Cost of single bedroom, tip for guide and Driver
NOTE: The order and details of the program may change to suit the situation, and still ensure the full range of attractions.
* CHILD TOUR PRICE: 
Children 1 to under 5 years: free of charge. Eating and sleeping with their parents (parents pay all the arising: the fee for the island of Cu Lao Cham 150,000 VND/child and the cable car Cao Ba na > 1m).
Children 5 – 9 years: Count 50% private meal and sleep with parents
Guests are advised to book the tour at least 7 days in advance (after this time please call confirmation with the company on the number of seats). The booking procedure includes: Guest name, phone number, tour number, departure date and deposit 50% of the tour price to reserve and guarantee the service, the remainder will pay for HDV company on the day of pick up
Related Tours